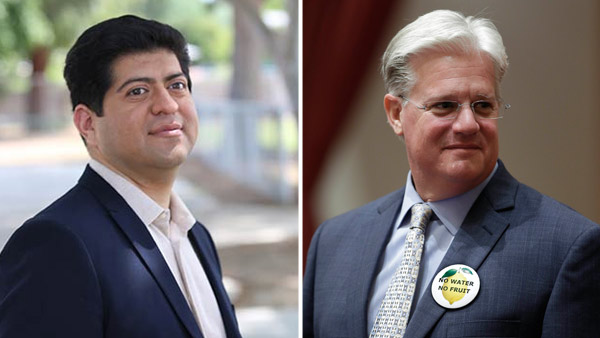 The days are ticking away until the November 4th General Election here in California and across the U.S.
Are you paying attention yet? Do you care?
With ISIS, Ebola, Apple, Football, and the World Series commanding our attention, it's easy to forget we have a mid-term election coming up to decide the fate of politicians and important issues.
However, it's tough to escape those campaign commercials and other advertising.
Speaking of which... State Senate Candidate Luis Chavez has a new TV & radio ad and he's not the star of it.
Governor Jerry Brown is front and center... announcing his support of the Fresno Unified School Board member and fellow Democrat.
The ad is meant to spotlight Brown's endorsement of Chavez, but Proposition 1, the State Water Bond on the November Ballot, gets mentioned by the Governor more times than he says "Chavez".
Somehow in his own unique style, Governor Brown links Prop 1, saving water, and creating jobs to the election of Chavez.
You can view the Chavez/Brown commercial here:
The Governor's appearance in the ad and his endorsement of Chavez speak volumes as to just how badly the Democrats want to win back control of the 14th Senate District seat.
The District includes all of Kings County and parts of Fresno, Kern, and Tulare Counties as well as precincts in Fresno and Bakersfield.
Despite a significant voter edge for Democrats, Hanford Cherry Farmer, Republican Andy Vidak, won a special election for the seat in July of 2013 after Democratic Senator Michael Rubio resigned to take a job with Chevron.
The 14th now has new district lines and continues to give Democrats the voting edge.
However, Vidak came in first in the June Primary with 61.2% of the vote and Chavez had 38.8%.
Democrats have poured tens of thousands of dollars into the Chavez campaign.
As of September 30th, more than $1.4 million had been contributed to Chavez for State Senate 2014 with most of those funds coming from the Party, other elected Democrats, and independent groups.
The Chavez Campaign has spent more than $1.2 million.
The Vidak Campaign has received more than $1million in contributions as of September 30th with expenditures at more than $904,000.
Vidak also received campaign cash from Chevron... former Senator Rubio's new employer, but the oil giant made no contribution to Chavez.
Both campaigns have gone negative with Chavez claiming Vidak votes for special interests and Vidak counter-attacking that Chavez is linked to the corruption scandals at the State Capitol.
Those scandals cost the Democrats their super-majority in the State Senate ... and the ability to control the legislative agenda from raising taxes to over-riding the Governor's vetoes.
They are two seats short of that power position and that's why they're so focused on winning the 14th as well as a State Senate District in Orange County.
Republicans want to retain the 14th District seat as they try to claw their way back to relevance at the State Capitol.