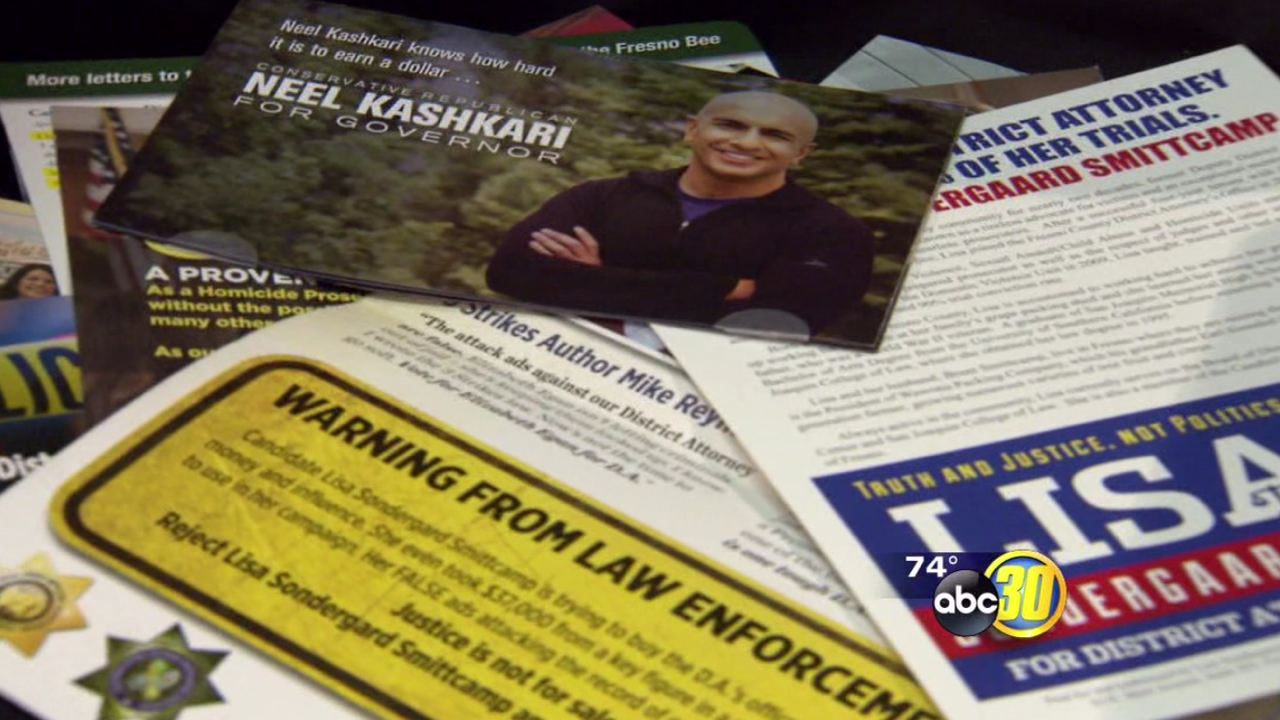 Judging by Tuesday's voter turnout (around 19%)... interest in the Primary Election was lackluster at best.
Except for a couple of local races... no real candidate or issue motivated people to go to the polls.
That may change for November when the ballot gets loaded up with various propositions and we've gone through a long, hot, and especially dry summer and fall and voters may be ready to blame politicians for their troubles.
Meantime, let's take a look back at the June 3rd Primary and a look ahead.
Going for Silver:
It's widely believed Governor Jerry Brown will win an unprecedented fourth term in November... possibly by a landslide.
The question now is... how much money will Republican Neel Kashkari be able to raise and spend just to lose?
If Kashkari can at least run a strong campaign without stumbling and chop away at more than Jerry Brown's "Crazy Train"... he may set himself up for a successful run in the future for another office.
Best Race:
I know it's hard to believe, but the contest for State Controller was the most fun to watch throughout the night.
It already earned our attention because it featured Fresno Mayor Ashley Swearengin, but the see-saw battle and continuing lead changes during the night actually made it exciting... at least for those of us who enjoy this kind of thing (I don't get out much...).
At this writing, Swearengin is in the November runoff with 24.4% of the vote.
The battle against Swearengin is between Democrat John Perez with 21.7%, Republican David (Who is this guy?) Evans with 21.6%, and Democrat Betty Yee with 21.5% of the vote.
From Perez through Evans to Yee, the difference is only about 6000 votes.
Political Stars
The future of both major political parties in California may be in the hands of women.
If Swearengin wins in November, she may be the only Republican able to break the Democrats' grip on statewide offices.
On the Democratic side, Attorney General Kamala Harris cruised to an easy November nomination with 53% of the vote and more than 1.5 million votes cast for her in the Primary Election.
Harris' closest rival was Republican Ronald Gold with only 12.7% of the vote.
Harris is widely considered a likely and strong candidate for Governor in 2018 because of a variety of reasons including her connections to the White House.
Could we see a Harris vs Swearengin showdown in four years for the Governor's office?
Stay tuned.
Let's Go Polling
Lisa Sondergaard-Smittcamp will be only the third District Attorney in Fresno County in more than thirty years.
Smittcamp won with 58% of the vote... compared to Egan with 41%.
Prior to the June 3rd Election... two exclusive Action News Polls conducted by Survey USA showed Smittcamp winning the DA's job over Egan.
The second Action News Poll on the race conducted last week had Smittcamp winning 54% to 33% with 13% undecided.
The Egan Campaign called both polls "highly inaccurate".
Lawmen
Sondergaard-Smittcamp ran a smarter campaign than the incumbent.
Political Analyst Tony Capozzi told Action News Reporter Corin Hoggard that the endorsement from Fresno Police Chief Jerry Dyer really gave the Smittcamp Campaign a big shot of credibility.
What will Dyer's clout mean to voters when he's finally ready to leave the Chief's job and consider his own run for political office?
Another endorsement also gave Smittcamp's effort to oust Egan a major boost.
Former Federal Judge Oliver Wanger's backing of Smittcamp's campaign spoke volumes about the problems in the DA's office and the case backlog in the local courts.
November Rehearsal
If you thought Republican State Senators Andy Vidak, Tom Berryhill, and Anthony Cannella won re-election Tuesday night... guess again... and how do you like the State's Top 2 Primary Rules now?
The Primary was just a warm-up... and they'll face their Democrat challengers again in November.
No Sweat
Fresno County Sheriff Margaret Mims, County Clerk Brandi Orth, County Auditor-Controller/Treasurer-Tax Collector Vicki Crow, and Fresno City Councilman Sal Quintero all cruised to victory in the Primary.
They were unopposed.
Click the link for more election results abc30.tv/TbIvh0.