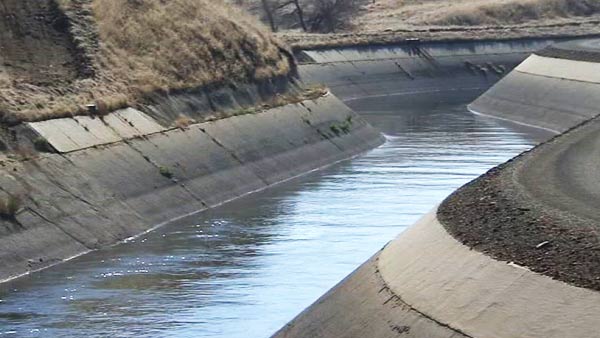 From political posturing... to the power of prayer... a great deal has been said and debated in the last few weeks regarding the drought in California and the battle for water.
First, the stark realization of just how critical the situation is... followed the California Department of Water Resources announcing a zero allocation from the State Water Project.
Leaders in eastside communities like Orange Cove warned their city water would soon dry up.
President Obama called Governor Brown and offered support in the water crisis.
The full news release from the White House regarding the President's call to the Governor is at the bottom of the page.
The Valley's GOP Congressional delegation pushed a bill to help farmers.
Their plan which won House approval stops water flowing to the San Joaquin River Restoration, but keeps water flowing through the Federal Delta pumps.
The House Water Bill faces tough opposition from California's real water power broker: Senator Dianne Feinstein.
Meantime, residents of Central California danced, prayed, and waited for rain and snow to start falling in February.
Here's a sampling of those Valley voices still echoing throughout California about the drought and what to do about it:
DWR DIRECTOR MARK COWIN: "It is our duty to give State Water Project customers a realistic understanding of how much water they will receive from the Project. Simply put, there's not enough water in the system right now for customers to expect any water this season from the project."
STATE SENATOR ANDY VIDAK: "A zero percent water allocation for our Valley is catastrophic! We need the pumps turned on now for immediate relief and a water bond on the November ballot that fully funds water storage to protect us in the future."
HOUSE SPEAKER JOHN BOEHNER: "The Central Valley supplies America with an abundance of fruit and vegetable crops, but it is now turning into a man-made dust bowl. Legislation passed today restores some water deliveries, ensures a reliable water supply, and saves taxpayer money by ending unnecessary and dubious government projects. I urge the Senate to listen to the concerns of Central Valley farmers and business leaders and pass this critical legislation."
GOVERNOR JERRY BROWN: "The House measure is an unwelcome and divisive intrusion into California's efforts to manage this severe crisis. It would override state laws and protections, and mandate that certain water interests come out ahead of others. [The bill] would interfere with our ability to respond effectively and flexibly to the current emergency, and would re-open old water wounds undermining years of progress toward reaching a collaborative long-term solution to our water needs."
REP. DEVIN NUNES: "In the midst of a major water crisis, we have no stored water to draw from and we continue flushing critical water supplies into the ocean. Governor Brown's position is nothing more than a defense of the failed status quo."
SENATOR DIANNE FEINSTEIN: "Each day I monitor the California drought, and each day brings more concern. I intend to introduce legislation soon with Senator Boxer to offer relief for California and other drought-stricken states and to streamline federal projects and operations. We have worked with federal and state agencies, rural irrigation districts and urban water districts to draft legislation that will minimize controversy yet still maximize water supplies during this drought period."
SENATOR BARBARA BOXER: "While House Republicans are pursuing divisive and discredited policies, we will be proposing solutions that will help bring relief to the communities hardest hit by this unprecedented drought."
SANGER MAYOR JOSHUA MITCHELL: "We've looked for answers on the political level. We've looked for answers from our state government. There's nothing that's really coming to fruition. And we just thought it's really time to come together as a community and do what we should have done from the beginning and pray for this water."
REP. JIM COSTA: "Our state is facing a disaster that has the potential to devastate our economy and force many of my constituents out of work. While we're all praying for rain, we need all the help we can get in responding to this crisis."
WHITE HOUSE NEWS RELEASE: Today, the President called Governor Jerry Brown to receive an update on the situation in California and express his concern for the citizens impacted by the historic drought conditions facing the state - conditions that are likely to have significant impacts on the state's communities, economy and environment in the coming months.
The President reinforced his commitment to providing the necessary federal support to the state and local efforts. The agencies are working together to target resources to help California and other impacted states prepare for and lessen the impacts of the drought. USDA is also working with farmers and ranchers to increase their irrigation water efficiency, protect vulnerable soils from erosion, and improve the health of pasture and range lands. And the Bureau of Reclamation is working closely with federal and California state authorities to facilitate water transfers and provide operational flexibility to convey and store available water, and facilitate additional actions that can conserve and move water to critical areas.
The National Drought Resilience Partnership (NDRP) will help coordinate the federal response, working closely with state, local government, agriculture and other partners. The NDRP is already helping to enhance existing efforts that federal agencies are working on with communities, businesses, farmers and ranchers to build resilience where drought is currently an issue across the country.
The President made clear that we will continue to work with our federal partners, including FEMA, to support the state and local response, and expressed his support during this challenging time.