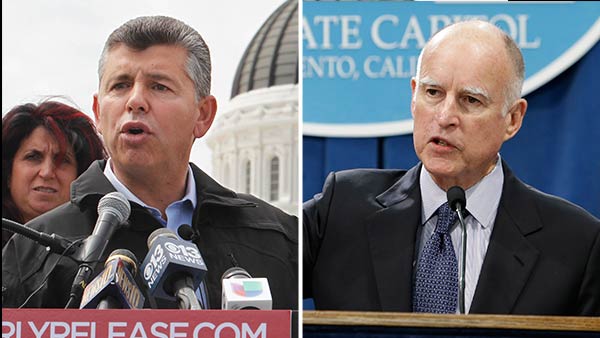 Former Lt. Governor Abel Maldonado has dropped out of the 2014 race for California Governor.
Maldonado made his announcement in his home town of Santa Maria, saying "I have concluded that now, is not my time." With Maldonado out... the only official GOP candidate in the contest is Assemblyman Tim Donnelly of Twin Peaks.
Former U-S Treasury Department official and investment guru, Neel Kashkari, is weighing a campaign for Governor.
Former Congressman George Radanovich of Mariposa, told me... he's still exploring a possible run which would also bring attention to his strategy to "Restore California" by putting a renewed focus on the family.
* What about Governor Jerry Brown?
The Democrat has yet to officially announce his candidacy for another term as the state's top executive. He's had a bumpy start to 2014. His budget proposal received generally good reviews, but his pet projects - the twin tunnels in the Delta and the bullet train - are increasingly unpopular ideas with ballooning costs. His administration's perceived slow response to the drought crisis may also lead to tougher scrutiny from the public during the upcoming campaign.
* She's not a candidate, but former U-S Secretary of State Condoleezza Rice is still a major star in the Republican Party. Rice will be the keynote speaker at the 2014 California Republican Party Spring Convention luncheon on Saturday, March 15th in Burlingame.
* Fresno Assemblyman Henry T. Perea has been named the 2013 Life Science Champion of the Year by the California Healthcare Institute. Perea authored a bill that guarantees limits a cancer patient's cost for a month of pills to $200. The award goes to members of the Legislature for their leadership in advancing biomedical science, biotechnology, pharmaceutical and medical device innovation.
* Former Kerman Mayor Gary Yep is now a candidate for Fresno County Supervisor. He's running for the District 1 seat being vacated by Phil Larson. Yep's top concern is water for the ag-based District.