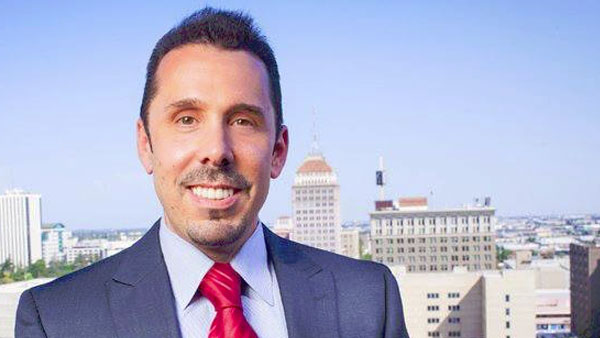 Fresno businessman Cary Catalano has been a community activist for years, but now, he's ready to seek his first political office.
Catalano has announced his candidacy for Fresno City Council District 1.
The District covers West-Central Fresno and the seat is currently held by Blong Xiong, who is serving his second and final term on the Council.
The election is June of 2014, but Catalano already has his campaign up and running in mid-season form... and that makes sense... considering he runs his own marketing firm.
In his official announcement, Catalano said "We live in a community of great opportunities and tremendous talent. We also live in a community with significant barriers to success."
Catalano says it's time for everyone with a stake in Fresno's success to chart a bold course for the future.
Catalano promises "I will work hard. I will listen well, and I will do my best to cultivate the partnerships and collaborations needed to move Fresno forward."
Vidak Swear In
Andy Vidak will take his oath of office for the State Senate on August 10, 2013, at Courthouse Park in Downtown Hanford. The time is 10am.
Hanford is an appropriate place for the Republican's swearing-in ceremony.
Not only is Hanford Vidak's home base, but voters delivered him an overwhelming victory in Kings County over his opponent, Democrat Leticia Perez.
Vidak took roughly 75% of the vote in Kings County and he won more than 59% of the vote in neighboring Tulare County.
Vidak ended up winning the close runoff election in the 16th State Senate District with 51.9% of the vote to 48.1% for Perez.
Perez remains a Kern County Supervisor.
Governor Brown's Job Approval
Governor Jerry Brown has yet to announce if he's running for re-election next year, but a majority of California voters in two recent polls like the job he's doing at the State Capitol.
The Governor has a record high 54% approval rating in the most recent poll by the Public Policy Institute of California of likely voters.
A California Field Poll last week found 51% of registered voters approve of the job Governor is doing.
The Field Poll also showed the Democratic Governor's popularity had slipped from 57% back in February.
Brown looks like he's ready to run: The latest campaign finance reports show he has more than $10 million in his campaign war chest.