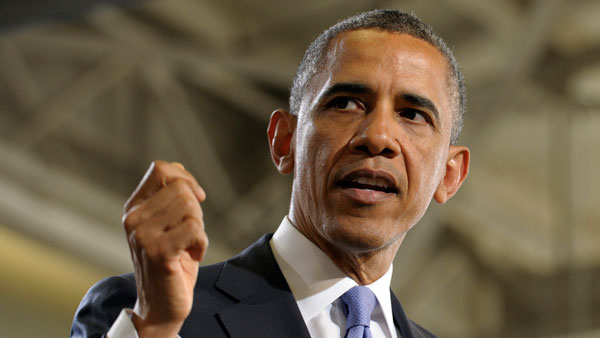 President Barack Obama returns to California tonight (April 3rd) to headline four fundraisers in the Bay Area.
The President is basically returning to the campaign trail just months after winning re-election with one purpose: getting Democrats in control of the U.S. House.
Two events on Wednesday night benefit the Democratic Congressional Campaign Committee. A cocktail reception will be followed by a dinner at the home of billionaire Gordon Getty.
Two more fundraisers will take place on Thursday with the money going to the Democratic National Committee.
Prices per person for the various events range from $5000 to more than $34,000. The President is expected to generate millions for the Democrats' campaign war chests.
President Obama is expected to headline at least fourteen fundraisers this year to benefit his party's House and Senate candidates.
Republicans are critical of the President... claiming he's more focused on Democrats gaining more power and control in the mid-term elections than submitting a budget and solving the nation's problems. The White House Spokesman defended the President... saying his actions are consistent with past Presidents.
During his first term in office, President Obama made more than fifty trips to California and the overwhelming majority of those trips were to attend campaign fundraisers.
16th Senate District Candidates
Five candidates are hoping they'll be the next State Senator for the people of California's 16th Senate District.
Secretary of State Debra Bowen released the certified candidate list today (April 3rd) for the May 21st Special Primary Election.
The candidates are:
* Paulina Miranda (Party Preference: Democratic) - Businesswoman
* Leticia Perez (Party Preference: Democratic) - County Supervisor
* Francisco "Frank" Ramirez (Party Preference: Democratic) - Business Consultant
* Andy Vidak (Party Preference: Republican) - Farmer/Small Businessman
* Mohammad "O" Arif (Party Preference: Peace and Freedom) - Businessman

The Special Election is to replace Michael Rubio who resigned office to take a job with Chevron.
Perez and Vidak are already considered the front-runners in this contest, but if no candidate receives a 50% plus one majority in the Special Election... a run-off election will take place on July 23rd.
Perez has the endorsement of her party's powerful leaders in Sacramento and Republican Vidak who ran a strong Congressional Campaign against Jim Costa... is already raising plenty of funds for this State Senate battle.
The 16th Senate District runs from Fresno to Bakersfield and includes Kings County.