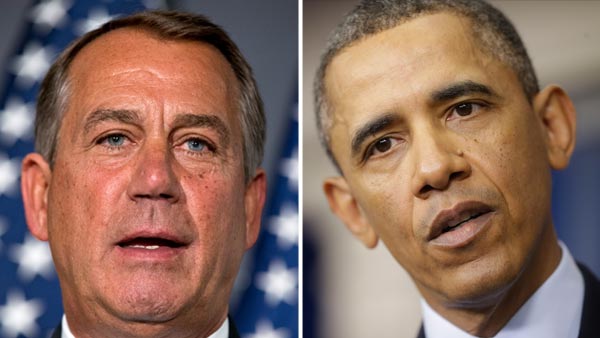 President Obama and Congressional Republicans are both getting the blame for the political stalemate over the $85 billion in automatic federal spending cuts also known as the Sequester.
That's the result of a new and exclusive Action News Poll conducted by Survey USA of 600 adults in the Fresno area. Also, a third of those adults polled claim they'll suffer "a lot" when those budget cuts kick-in.
Just hours prior to President Obama signing the order to authorize the across-the-board budget reductions... Survey USA asked this question:
"If the Sequester goes into effect, who will be most responsible? The President? Republicans in Congress? Or would they both be equally responsible?"
Here are the results:
President 30% Republicans 29% Both 39% Not Sure 2%
Behind the numbers: Conservatives in the poll are toughest on the President regarding responsibility, while Moderates and Liberals are hardest on Congressional Republicans, but Moderates find more fault with both the President and the GOP.
President Obama and Republicans in Congress also earned negative responses for how they're handling federal spending. 57% "Disapprove" of the President and 67% "Disapprove" of the Republicans.
49% of those polled believe President Obama is "Failing to Lead" on the Sequester issue... while 55% say House Speaker John Boehner is "Failing to Lead" on this issue. As you might expect, Conservatives in the poll are tougher on the President with Liberals tougher on Speaker Boehner. Slightly more Moderates find favor with President Obama, but more than two-thirds of them question the Speaker's leadership.
Survey USA also asked about the respondents about their personal finances in regards to the Sequester.
34% said they would suffer "A Lot"
42% said "A Little"
19% said "Not At All"
And 6% were "Not Sure".
The majority of those asked also believe the Sequester will be "Bad" for the U.S economy in the short term (51%) and the long term (47%).
54% also say the Sequestration will be "Unsuccessful" in reducing the size of government.
For complete results of this latest and exclusive Action News Poll conducted by Survey USA... click on the link: http://bit.ly/Y9A7cD