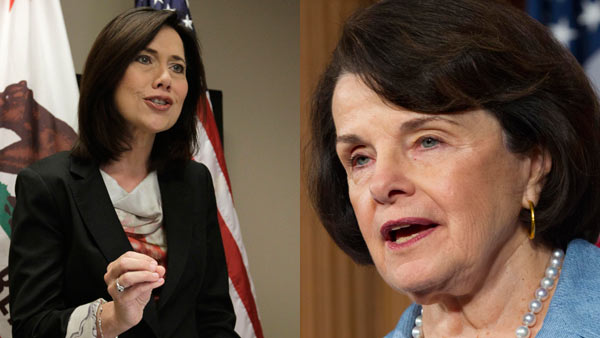 AP Photo/Rich Pedroncelli (left), J. Scott Applewhite, File (right)

California's Senior U.S. Senator Dianne Feinstein is running for re-election in November, but don't expect to see a formal debate on the issues between Feinstein and her Republican challenger, Elizabeth Emken.
Emken's campaign has been keeping a running total of the days since Emken invited Feinstein to debate. As of September 11th… it's been 65 days with no answer from the incumbent.
Emken's campaign sends out a daily email on the debate challenge under the subject: "Empty Chair Update"… with a nod and a wink to Clint Eastwood's GOP Convention speech regarding President Obama.
The LA Times has scolded Feinstein for not debating… saying she's slighting the voters. The debate issue is getting more attention after Senator Feinstein's interview with ABC30's sister station in San Francisco, KGO.
Political Reporter Mark Matthews asked her about debating Emken and Feinstein replied "I'm running my own campaign". When Matthews pressed the question… a clearly annoyed Feinstein stood up and ended the interview (starts at about 3:00 in the video below):
Action News Political Analyst Tony Capozzi says Emken's debate challenge to Feinstein is a typical strategy for a candidate whose campaign really can't go toe-to-toe with a solid incumbent like Feinstein. Capozzi adds "Feinstein has no need to debate. She's far ahead in the polls. Debating could only hurt her… so why take the chance?"
Capozzi says Feinstein could do well in a debate, but her opponent is only hoping to catch her in a mistake and would then try to capitalize on it.
Emken's Senate Campaign Communications Director calls Feinstein "An entrenched incumbent with no new ideas to justify another six years in Washington and no desire to let voters examine her record side by side with Elizabeth Emken in a public debate".
An Action News Poll conducted by Survey USA in July asked registered voters about Senator Feinstein's job performance: 46% Approve, 40% Disapprove, 15% Not Sure
In the Central Valley… the numbers were: 38% Approve, 49% Disapprove, 13% Not Sure.