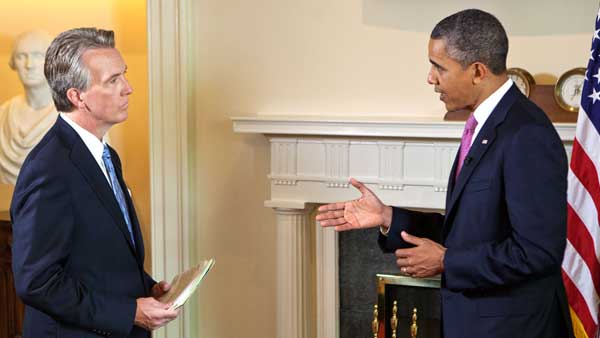 Hello again from Washington, D.C. I'm down in the Press Room at the White House writing this blog right now. This is the same Press Room where you see all of those network correspondents peppering the President's Press Secretary with questions and they occasionally get a visit from the President. The room is much smaller than you'd think, the desks where the reporters work are cramped, and our fellow reporters, photographers, and editors from our network, ABC, basically work in a glorified closet... but they still get the job done.
I want to tell you about what it was like behind the scenes of my interview with President Obama. When the time finally arrived for me to meet with the President... I was taken into the office space off the Press Room where all the various Press Secretaries work at the White House. Then, I walked through a security door, up some stairs and into a waiting area where they clipped a small microphone to me. I thought I was heading straight into the rooms beyond where I was standing, but then I heard a door slide open behind me. I turned around and standing just beyond that door inside the President's Cabinet Room...was the Commander in Chief. As soon as I saw him, I took off into the room, smiling and shaking his hand, saying "Mister President". I have to admit, I did find him charming and charismatic and he joked about where I was supposed to stand. We talked standing up instead of one of those "sit down" interviews you so often see on TV news. I felt something I haven't experienced in quite a while when doing an interview: nerves... not because I was standing next to the Leader of the Free World, but because I really wanted to get those questions right and hear how he answered them. I was so focused on the President that I didn't realize there were probably 15 people in the room during the interview including Secret Service.
PHOTOS: Warren Armstrong's trip to the White House
My first question regarded what I was hearing from many of you, our viewers. I asked despite the Administration's new report on Rural America and the farm economy... there is a growing perception in Central California that you and your administration don't understand or are not aware of the extreme problems in our region. You've made many trips to California and collected millions, but you've never stepped foot in the Central Valley. People want to know why you haven't come to Central California to see first-hand these problems... and the solutions. The President told me he is aware of what's happening and knows that Central California is one of the areas of the nation that's struggling. He went on to say how his administration's policies and proposals will help those in need from the farm to your neighborhood. Mister Obama says he's "mindful of the challenges" faced in Central California, but he made no promises of making a future trip to the Valley to see what unemployment, drought, foreclosure, crime and government policies are doing to the region.
I asked two more questions in the time I had and the President gave extended answers that used up the time I had been provided. We shook hands again, said our goodbyes and joked about the microphone still dangling on the floor next to me. I walked out and door slid closed behind me. The whole thing was like being in continuous revolving door.
Action News Producer Marquese Brown was also in the room during the interview and was surprised by all the people in the room. The President walked past him and nodded "Thanks for coming".
I think Marquese, Action News Photographer Richard Harmelink, and I accomplished what we set out to do. We wanted to interview the President about Valley issues... not what the national press corps was covering that day. You may not like the answers we got, but at least we able to in a small way get the President's attention for a time on Central California.
As always, we appreciate your feedback and thanks for watching ABC30 Action News.