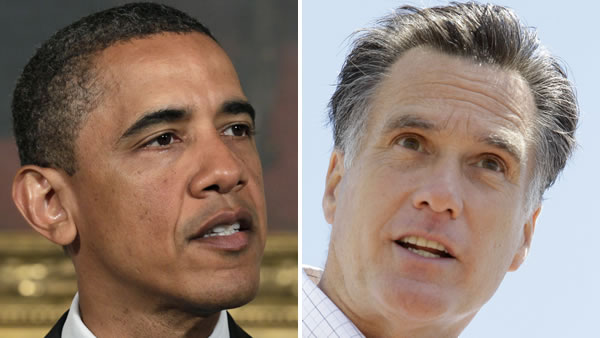 (Photo/Associated Press)
Update 4/10/12: Rick Santorum announces he is suspending his Presidential campaign. Newt Gingrich & Ron Paul are vowing to stay in the race... with both men saying they are the true conservative candidates to beat President Obama in November.
Original Post:
California Republicans want Mitt Romney to be the GOP's Presidential nominee, but Barack Obama still wins the Golden State no matter which of the four Republican candidates he would face in the November Election. Those are the results of a new and exclusive Action News Poll conducted by Survey USA.
With two months left before the California Primary, Romney is the clear choice of more than 430 Likely Republican Primary Voters questioned for the poll. The former Massachusetts Governor has a nearly two to one lead over his closest competitor, Rick Santorum. Here are the numbers:
Romney 44%
Santorum 23%
Gingrich 12%
Paul 12%
Undecided 8%
Other 1%
Romney's sprint to the front of the GOP pack is a big change from the last Action News Poll conducted in February by Survey USA. At that time, Romney and Santorum were in a statistical "dead heat", but in the past sixty days, Santorum's support has collapsed among several groups in the California GOP. Survey USA Editor Jay Leve pointed out these four examples to me:
1.       Among "very conservative" voters, Santorum had led by 30 points, now trails by 9 points, an extraordinary 39-point swing to Romney.
2.       Among seniors, Santorum had led by 4 points, now trails by 22 points, a 26-point swing to Romney.
3.       Among residents of the Central Valley, Santorum had led by 13, now trails by 13, a 26-point swing to Romney (Romney 37%, Santorum 24%).
4.       Among pro-life voters, Santorum had led by 10, now trails by 12, a 22-point swing to Romney.
After Romney's three state primary sweep last Tuesday (4/3/12)… the Associated Press reports Romney has an insurmountable lead unless there's a dramatic shift in the race. He's on pace to reach the GOP nomination number of 1,144 delegates on June 5th. That's the same day as the California Primary Election and Golden State Republicans could put Romney over the top.
Romney doesn't fare as well in a California match-up against President Obama in the General Election. According to the Action News Poll… the President has a 2:1 lead over all four GOP candidates… with Romney the closest. Here are the results from the poll of nearly 2000 registered voters:
Obama 62%
Romney 31%
Undecided 8%
The usually conservative-leaning Central Valley also prefers President Obama in the poll… 55% to 37%... but Romney has his greatest support here. Mr. Obama gets his best support in the traditionally liberal Bay Area… 70%. Surprisingly, the number of "Tea Party" members in the poll who would vote for the President over Romney has grown since February by roughly 11%... to 41%.
I asked Survey USA's Jay Leve if the Romney Camp can find any encouragement buried in the poll numbers. Here's what he had to say: "The Republican candidates have been beating each other up for months, so it is not surprising that President Obama holds a commanding lead over any Republican at this point, 7 months to Election Day. Once the Republicans select a nominee, and the candidate and the Republican Party turn their fire on President Obama, the contest in California should tighten slightly. That said, there is no indication yet that California will be "in play" in 2012.  At this hour, the state's 55 critical Electoral College votes remain comfortably 'blue'."
The data for this latest Action News Poll conducted by Survey USA was collected between March 29th and April 2nd, 2012.