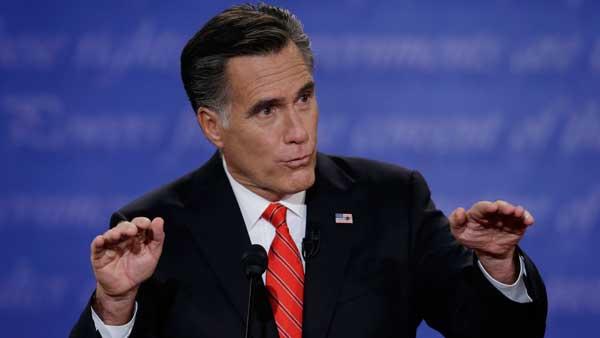 GOP nominee Mitt Romney is the "clear winner" of the first Presidential Debate held October 3rd in Denver. That's according to the statewide results of a new and exclusive Action News Poll conducted by SurveyUSA immediately following the conclusion of the debate between Romney and President Obama. SurveyUSA interviewed 869 people who watched the first debate.
SurveyUSA Editor Jay Leve says "California is a 'Blue' state and not surprisingly in California significantly more Democrats watched the debate than Republicans. Given that... it is particularly striking to find 48% say Romney was the clear winner." Here are the numbers:
Who was the clear winner? 48% Mitt Romney 34% Barack Obama 18% No Clear Winner
Also surprising in this poll... every region of the state... even greater San Francisco... scored Romney as the "clear winner" with the Central Valley giving the former Massachusetts Governor the greatest margin of victory.
Who was the clear winner? Central Valley: 58% Romney 27% Obama 15% No Clear Winner
Here are other highlights from the Action News Poll according to Leve:
Men by 24 points say Romney was the clear winner.
Middle-income viewers by 27 points say Romney was the clear winner.
Only those age 18 to 34 see the debate as a draw. Viewers age 35+ see Romney as the clear winner.
Only African Americans see Obama as a narrow winner. Whites, Hispanics and Asians see Romney as the clear winner.


Republicans by 78% to 13% say Romney won.
Democrats by 55% to 25% say Obama won.
Independents, the most critical, coveted and arguably most dispassionate group of debate watchers, say by 34 points that Romney is the clear winner.
Moderates, who typically vote 2:1 in favor of Obama, see Romney as the winner by 15 points.


Debate watchers split on who they trust more on the economy, a significant moral victory for Romney in California.
Debate watchers say Obama was not forceful enough.
Debate watchers (disproportionately Democrats) say Romney was too forceful.
Narrowly, debate watchers say Romney had the best one liner.
One down with two more debates to go for the Presidential candidates, but the running mates are next on October 11th in Danville, Kentucky. Round two of Obama and Romney is October 16th at Hofstra University in New York.