DEBATE POLL: Obama wins Round Two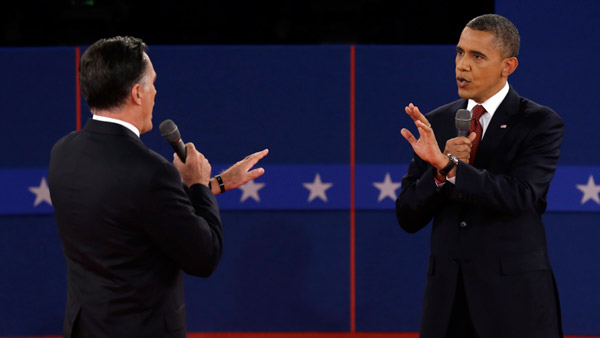 Round Two goes to President Obama. That's the result of a new and exclusive statewide Action News Poll conducted by SurveyUSA immediately after the conclusion of the tense and feisty second Presidential Debate between President Obama and Governor Romney at Hofstra University. SurveyUSA interviewed 656 people who watched the debate.
Who was the clear winner?
Barack Obama 56%
Romney 32%
No Clear Winner 12%

Debate watchers in the Central Valley also score the debate in favor of President Obama... 53% -to- 40% with 8% saying No Clear Winner. In fact, every region of the state of California scored the debate for Obama. The Pollsters at SurveyUSA say the Action News Poll shows Obama out-dueled Romney, but they offer this caution: "California is a 'blue' state and more Democrats in California watch a debate than do Republicans. That's why it's important to study reaction along party lines."
Here's how the poll breaks down along party lines:
Democrats by 72 points say Obama was tonight's clear winner (Democrats gave Obama a 30-point margin in Denver, the first debate).
Republicans by 41 points say Romney was tonight's clear winner (Republicans gave Romney a 65-point margin in Denver).
Independents split, 44% for Romney, 44% for Obama (Independents favored Romney by 34 points in Denver).
The Action News Poll also shows the majority of debate watchers believe the President had a better connection with the audience, answered the questions more precisely without beating around the bush, and was more prepared.
Two down and one debate to go for the Presidential candidates. Round three of Obama versus Romney takes place on Monday October 22nd in Boca Raton, Florida... a critical swing state. Two weeks before Election Day... the topic for the final debate is foreign policy.