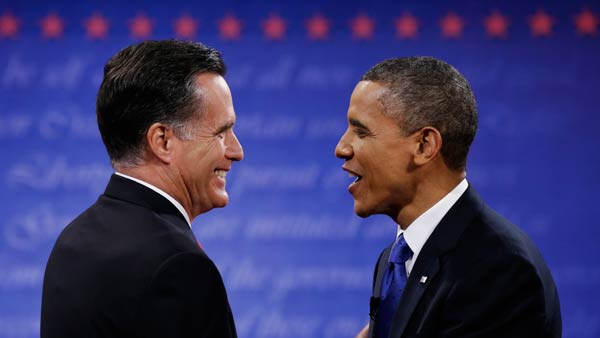 After two previous Presidential Debates, two polls, and two winners... the rubber match in Florida goes to President Obama. That's the result from a new and exclusive Action News Poll taken immediately after the third and final debate Monday night in Boca Raton. California debate watchers responding to an Action News Poll conducted by Survey USA immediately after the first Presidential Debate in Denver said Governor Mitt Romney was the winner.
Results from the second debate poll determined President Barack Obama the winner in New York. The President takes the third debate with 58% believing he was the "clear winner" to 35% backing Romney. 7% of those responding say there was no clear winner. 591 people who watched the debate answered the questions regarding the third face-off.
Central Valley debate watchers called the third debate on foreign policy "a draw". Central Valley: Romney 46% Obama 45% No Clear Winner 9% (margin of error +/-4%) Every other region in California scored it for Obama.
California is a "Blue" state and pollsters say it's not surprising that Obama would be the winner among all Californians. They say it's important to examine how Independent voters view the debate because they're closest thing to "neutral" voters. Independent voters also call it "a draw". Here are the numbers for Independents: 47% Obama 44% Romney ... that's within the margin of error.
More details from the poll:
By 8:1 Democrats score the debate for Obama... with Republicans 3:1 scoring it for Romney. Survey USA also says... of those Californians who have watched all three Presidential Debates... 94% know who they will vote for on Election Day. But amazingly, 5% of those debate watchers still have no idea for which candidate they will cast their ballot. 79% of those responding believe tonight's moderator, Bob Schieffer, was fair to both candidates.
The poll that really counts will take place on November 6th. It's Your Voice - Your Vote.