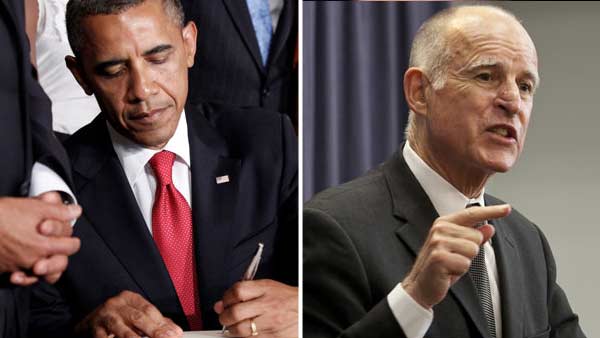 President Barack Obama, Governor Jerry Brown, and Senators Dianne Feinstein and Barbara Boxer are not getting good job reviews from a majority of registered voters here in the Central Valley.
According to a new and exclusive Action News Poll... conducted by SurveyUSA... all four Democratic leaders earned low marks on job approval from respondents here in the Valley, but the numbers tell a different story for the rest of the Golden State.
Let's start with the President.
SurveyUSA asked 530 registered voters in California this question: Do you approve or disapprove of the job Barack Obama is doing as President?
Overall, the President earned a "thumbs up" in the poll... with 51% answering "Approve" to 44% "Disapprove" and 5% "Not Sure".
Those results nearly flip-flop for the Central Valley.
41% Approve -- 52% Disapprove -- 6% Not Sure
Other regions of the state "Approve" of the President's job performance except for the Inland Empire where the results are basically split 49% to 47% with 4% undecided and the margin of error in the poll at "plus or minus" 4.3%.
Survey USA Editor Jay Leve says President Obama's job approval numbers have been trending down in California for some time and remember California is considered a "Blue" state.
Leve says "Obama's Net Job Approval has fallen in California from Plus 20 at the beginning of the year to Plus 7 today. This is not good news for the President. Among California Hispanics, as one example, the President has gone from Plus 32 in January to Plus 1 today."

Governor Jerry Brown also has job trouble that could impact his plea to voters to approve his tax hike initiative in November.
According to the Action News Poll... 41% Approve of the Governor's job performance while 47% Disapprove with 12% Not Sure.
Governor Brown gets even lower marks in the Central Valley: 38% to 52% with 10% Not Sure.
The results are mixed for California's two U.S. Senators.
Dianne Feinstein: Overall... 46% Approve -- 40% Disapprove -- 15% Not Sure Central Valley... 38% Approve -- 49% Disapprove -- 13% Not Sure
Barbara Boxer: Overall... 38% Approve -- 44% Disapprove -- 18% Not Sure Central Valley... 32% Approve -- 48% Disapprove -- 20% Not Sure