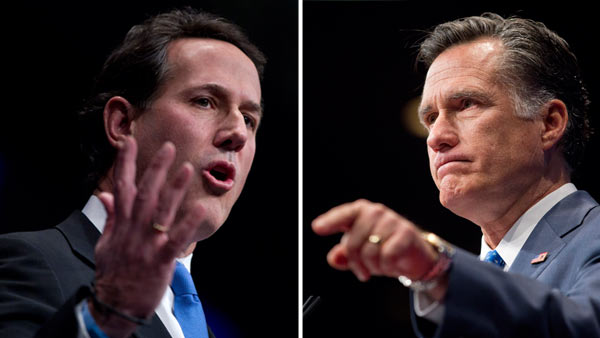 The Central Valley may push Rick Santorum to a victory in California's June Primary Election, but no Republican candidate is likely to beat President Barack Obama in the November General Election here in the Golden State.
That's the story from the extensive numbers in a new (2/10/12) and exclusive Action News Poll conducted by Survey USA. Pollsters collected data from February 8th to the 9th... and fresh after Santorum's primary and caucus wins in Colorado, Missouri, and Minnesota. The poll shows Santorum and frontrunner Mitt Romney in a statistical "dead heat" in California.
479 likely Republican Primary Voters were asked "If the Republican Primary for President of the United States were today and you were filling out your Republican primary ballot now... who would you vote for?" According to the Survey USA pollsters, the poll shows Santorum within a "whisker" of Romney... especially when you consider the poll's margin of error is just under 5%.
The results:
Romney 33%, Gingrich 17%, Paul 9%, Santorum 31%, Other 3%, Undecided 7%
Inside the numbers: Survey USA says Santorum leads Romney among seniors, among evangelicals, among pro-life voters, among Tea Party members and among those who say they are "very conservative". Central Valley GOP voters are strongly behind Santorum... 43% to Romney's 30% (Gingrich 11% - Paul 8%). No other region of the state gives Santorum higher numbers. Romney leads among women, among younger voters, among moderates and among California's pro-choice Republican Primary voters in the Action News Poll. Survey USA also points out that even among the most affluent voters, Romney's advantage is just four points... 35% to Santorum's 31%.
Based on the poll results, President Obama will cruise to victory in California no matter who the GOP candidate is. Survey USA says "California remains a Blue State and Barack Obama is almost assured all of the state's 55 electoral votes". Survey USA questioned more than 2,000 registered voters in California about head-to-head matchups between the President and Romney, Santorum, Gingrich, and Paul. President Obama takes 60 to 63% against all four. He leads Romney by 29 points, Paul by 31 points, Santorum by 32 points, and Gingrich by 36 points. You may remember, back in November 2008, Senator Obama defeated Senator John McCain by 24 points in California. Even here in the Central Valley, the President leads the four GOP candidates in the poll by nearly 30 points. President Obama gets his greatest regional support in the Bay Area where two-thirds to nearly three-quarters of the registered voters in the poll support him. 9 to 11% of those asked in the head-to-head match-ups are undecided.
Buried deep in the numbers of this new poll is this surprising nugget: roughly 30% of those registered voters who identify themselves as Tea Party members say they would vote for President Obama over any of the GOP candidates.
If the Republican Primary for President of the United States were today, and you were filling out your Republican primary ballot now, who would you vote for? (candidate names rotated) Mitt Romney? Newt Gingrich? Ron Paul? Rick Santorum? Or one of the other Republican candidates?

33% Romney
17% Gingrich
9% Paul
31% Santorum
3% Other
7% Undecided

In a general election for President today, if the only two candidates on the ballot were Barack Obama and Mitt Romney, who would you vote for?

60% Barack Obama (D)
31% Mitt Romney (R)
9% Undecided

In a general election for President today, if the only two candidates on the ballot were Barack Obama and Newt Gingrich, who would you vote for?

63% Barack Obama (D)
27% Newt Gingrich (R)
10% Undecided

In a general election for President today, if the only two candidates on the ballot were Barack Obama and Rick Santorum, who would you vote for?

61% Barack Obama (D)
29% Rick Santorum (R)
9% Undecided

In a general election for President today, if the only two candidates on the ballot were Barack Obama and Ron Paul, who would you vote for?

60% Barack Obama (D)
29% Ron Paul (R)
11% Undecided

Should same-sex couples be able to share in the legal benefits of marriage, such as the right to inherit property and the right to make medical decisions for one another? Or should the legal benefits of marriage be restricted only to couples consisting of a man and a woman?

61% Same-sex Couples
34% Man And a Woman
5% Not Sure