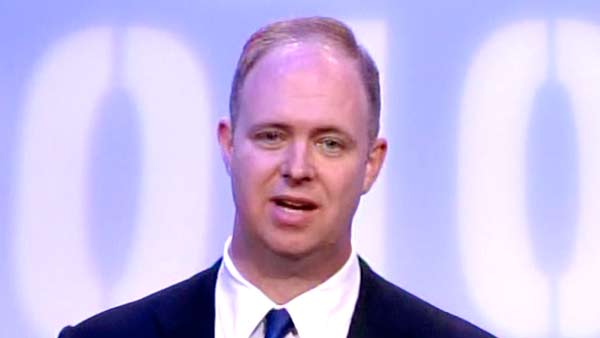 Fresno City Councilman Larry Westerlund is joining a growing list of local Republicans who were thinking about running for Congress, but have decided against it. Westerlund tells me... he will not seek the Republican nomination in the new 16th Congressional District. The second term Councilman ran unsuccessfully for the 19th Congressional District seat last year. He was one of four Republicans hoping to succeed retiring Congressman George Radanovich. State Senator Jeff Denham won the "bare-knuckle" primary against Westerlund, Jim Patterson, and Richard Pombo and eventually cruised to victory in the General Election.
Why isn't Larry running in the 16th where he's better known than the current crop of GOP candidates? His top reason is family. Westerlund's wife is expecting their second child. When she was carrying their first child, Westerlund missed most of the pregnancy because he was serving our country with a tour of duty in the Middle East. He was able to return to Fresno for the birth of his daughter... now three years old... but had to ship out again shortly after she was born. He doesn't want to be an absent father again and he believes a political campaign would take him away during an important time for his family.
Westerlund also believes the electorate is angry and he's not sure which candidates have the upper hand, but like Former Fresno Mayor Jim Patterson, Westerlund thinks the seat is too tough for a Republican to win without the financial backing from the national party. He says the GOP is not making the 16th a "first tier" or targeted race.
Westerlund has thirteen months left to his second and final City Council term. He says he may consider a run for higher office in the future, but for now, his focus is on his family.
So far, the GOP field of candidates is a trio: Fresno City Councilmember Clint Olivier, Fresno attorney Brian Whelan, and dairy farmer Johnny Tacherra. Each one believes they can knock off incumbent Democratic Congressman Jim Costa. Action News Reporter Gene Haagenson recently talked with all four of them and you can watch his report by clicking on the video player below.