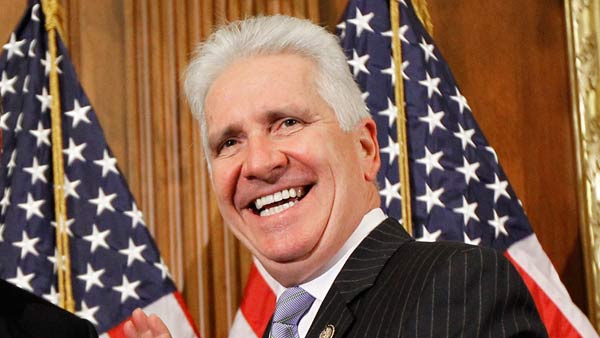 Wanted: GOP candidate to challenge Jim Costa in new Congressional district
We are one year away from an historic General Election in California and the entire nation. The future of the country and the balance of power in Washington and Sacramento are at stake. Valley voters will consider familiar names like Devin Nunes and Jim Costa for new, redrawn Congressional Districts.
With the announced retirement of Representative Dennis Cardoza of Merced, his friend and colleague, Representative Jim Costa of Fresno, will be the Democrats' choice in the new 16th Congressional District. This reworked district runs from the city of Fresno, north through Madera County and includes all of Merced County.
As for local Republicans... they're having a struggle trying to find a candidate for the primary let alone go up against Costa in the fall of 2012. As reported by the Fresno Bee... Clovis businessman, Case Lawrence, and Merced County Sheriff Mark Pazin have been approached and asked to consider a run for the 16th Congressional seat. They declined... and I've learned that several other high profile individuals... namely Fresno Mayor Ashley Swearengin, former Fresno Mayor Alan Autry, and retiring Fresno Police Chief Jerry Dyer have also been approached by influential Republicans about running for Congress. Their response: Thanks, but no thanks. I've also been told the GOP is currently polling to figure out who can possibly beat Jim Costa and how to beat him. They're trying to determine the Congressman's weaknesses and gauge interest in three possible Congressional candidates. They are former Fresno Mayor Jim Patterson, and Fresno City Councilmembers Larry Westerlund and Clint Olivier.
Patterson and Westerlund are seasoned campaigners. If Patterson runs... it will be his third attempt at Congressional office. Both Patterson and Westerlund ran in a rough primary campaign to replace the retiring George Radanovich in Congress. Jeff Denham won the primary race and eventually the November election last year. Olivier is still in his first term as the District 7 Council representative. The City Council job is the former TV reporter's first elected position.
Whoever battles Costa faces a difficult contest. The new district leans Democratic in voter registration... favoring Costa. Plus, Costa is an incumbent, a crafty campaigner, and he represented roughly the same region in Sacramento. However, in last year's Congressional race between Democratic Rep. Dennis Cardoza and Republican Mike Berryhill... Berryhill beat Cardoza by five percentage points in what is now the 16th Congressional District. This is giving Republicans ... like Patterson ... hope that Costa can be defeated next year. Patterson told me Valley Republicans have learned their lesson after last year's volatile four candidate primary race for Radanovich's seat that split big dollar supporters and votes. Patterson believes Republicans will have a strong, single, well-financed candidate for the Primary Election with a top goal of forcing Jim Costa into political retirement.